Welcome to SilverDonia
Home of the Cutest, Spoiled, and Most Loved Silver Persian Kittens and Cats!
A very small, not for profit, in home hobby breeder, exhibiting our award winning silver Persian cats since 2011. We are humbled by our prestigious CFA titles as well as our cats' elite & noble lineages. Located just south of downtown Chicago Illinois, we raise socialized, well-adjusted Persian kittens with outstanding personalities. Our Persian kittens are raised under foot with playful dispositions that are unique to SilverDonia. Our pets are part of our big family of five children who simply adore them! Our cats, those we are not currently showing, are usually shaved down for easier maintenance. My main focus is on the improvement of health and temperament in the silver Persian cat. Our standards are always kept high and we will never sacrifice quality for quantity. On occasion we may have  Persian kittens available for adoption. Please ask to be added to our waiting list as the numbers of available babies are limited. Questions or comments? Please contact us using our form!

What is a silver Persian cat?
"The Silver Persian has long been referred to as the "Rolls Royce" of the cat world. The look is timeless and elegant, and they have always been described as regal and exquisite in appearance. It is a "breed" of classic, incredible beauty, considered by many to be the most beautiful Persian color, if not "the fairest of them all." –Janice Reichle This division of Persian cats is what charmed me into the show ring. Their magnificent black tipped fur with white undercoats and … [Read More...]
Toy or Teacup Persian Kittens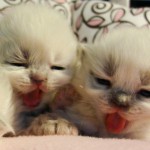 There Is No Such Thing As Toy Or Teacup Persian Cats! There have been quite a few websites with silver and golden Persian kittens popping up claiming to have toy or teacup Persian kittens charging astonishing prices for pets with unknown bloodlines ($3000-$8000!!) Silver Persians and Golden Persian cats have always been smaller than other colors of Persians.  An average female weighs 5-6 pounds. An average male weighs 7-9 pounds. Cats any smaller than this are labeled "runts"; not teacups, toys, pixie, minis, or whatever other designer label has been conjured up to describe these cats. Reputable breeders, those who are trying to improve the breed, are working to breed away from this small size as a Persian cat should be a genetically sound medium to large cat. However the unscrupulous are banking on it by misleading unsuspecting pet owners into thinking this trait is rare, coveted, or new, and charging exorbitant amounts of money for their kittens, outrageous … [Read More...]
Our Persian kitten information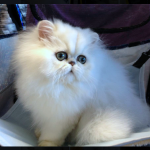 Cilck the link below for available kittens!  Our Persian Kitten Information Here at SilverDonia, our Persian kitten's unique personalities develop as they grow with us. It is especially important that we handle them frequently at a very young age to properly develop those important socialization skills that make them such wonderful companions. Having five children in the house naturally contributes and even enhances this process! Our kittens also remain with their mom and siblings until they are ready to go around 12 weeks of age. This allows full development of their immune system, development of their socialization skills with their litter mates and people, and prepares them to enter their second home with maturity and confidence. Our … [click to Read More...]
Choosing a Reputable Persian Kitten Breeder
Quick Tips: There are many websites on the Internet advertising silver Persian kittens for sale. A number of these websites are from breeders who are for-profit, meaning they breed cats to earn money. A reputable breeder spends far more money taking care of their cats than they make on their kitten sales! To help you select a reputable breeder, follow these basic guidelines and you will be assured that you are not getting an inferior quality kitten and supporting commercial catteries or kitten mills. Are the parents of the kittens advertised on the website? Breeders should be proud to share the adults of their breeding program with prospective kitten owners. Recent pictures and videos show their adults are well cared for and are in good health. Kittens grow up to resemble their parents and looking at the parents is the best way to determine what your kitten will look like. Recently some commercial catteries have been sending stolen pictures of famous cats to potential pet owners deceiving them into thinking the kitten they have for sale will look like the famous, top-quality cat. If the pictures are not on the website, go visit the breeder in person to see the parents before … [click to Read More...]