Welcome to SilverDonia
Home of the Cutest, Spoiled, and Most Loved Silver Persian Kittens and Cats!
We are a very small not for profit, in home hobby cattery fascinated with exhibiting our award winning silver Persian cats which have all achieved prestigious CFA titles (or in the process of acquiring them) coming from elite and noble lineage.  Located just south of downtown Chicago Illinois, we raise socialized, well-adjusted Persian kittens with outstanding personalities. Our standards are always kept high and we will never sacrifice quality for quantity with a focus on improvement of the silver Persian including health and temperament. Our Persian kittens are raised under foot with playful dispositions that are unique to SilverDonia. Our pets are part of our big family of five children who simply adore them! On occasion we have Persian kittens available for adoption. Please ask to be added to our waiting list as the numbers of litters are limited. Questions or comments? Please contact us using our form!
Toy or Teacup Persian Kittens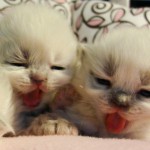 There Is No Such A Thing As Toy Or Teacup Persian Cats! There have been quite a few websites with silver and golden Persian kittens popping up recently claiming to have toy or teacup size Persian kittens charging astonishing prices for pet quality cats with inferior bloodlines ($3000-$8000!!) Silver Persians and Golden Persian cats have always been smaller than other colors of Persians.  An average female weighs 5-6 pounds. An average male weighs 7-9 pounds. Cats any smaller than this are labeled "runts"; not teacups, toys, pixie, minis, or whatever other designer label has been conjured up to describe these cats. Reputable breeders (those who show and are trying to improve the breed) are working to breed away from this small size as a Persian cat should be a genetically sound medium to large cat. However the unscrupulous are banking on it by misleading unsuspecting pet owners into thinking this trait is rare, coveted, or new, and charging exorbitant amounts of money for their kittens, outrageous prices don't always mean better quality or pedigree. Make yourself an educated consumer. Learn more about these facts with the Cat Fanciers Association or talk to reputable … [Read More...]
Choosing a Reputable Persian Kitten Breeder
Quick Tips: There are many websites on the Internet advertising silver Persian kittens for sale. A number of these websites are from breeders who are for-profit, meaning they breed cats to earn money. A reputable breeder spends far more money taking care of and showing their cats than they make on their kitten sales! To help you select a reputable breeder, follow these basic guidelines and you will be assured that you are not getting an inferior quality kitten and supporting commercial catteries or kitten mills. 1. Does the breeder show their cats? This is the ONLY way to evaluate a breeding program. Anyone can put a male and female cat together to produce kittens, but this often leads to selection for inferior traits, poor coat and eye color, and health issues. A reputable breeder pairs cats based on strengths and weaknesses of each parent and a thorough understanding of the genetics and pedigrees behind the parents to produce the most genetically and phenotypically sound kittens possible. Reputable breeders breed toward a written standard to improve the breed and do not produce kittens for the primary purpose of selling them to pet homes. 2. Are the parents of the kittens … [click to Read More...]